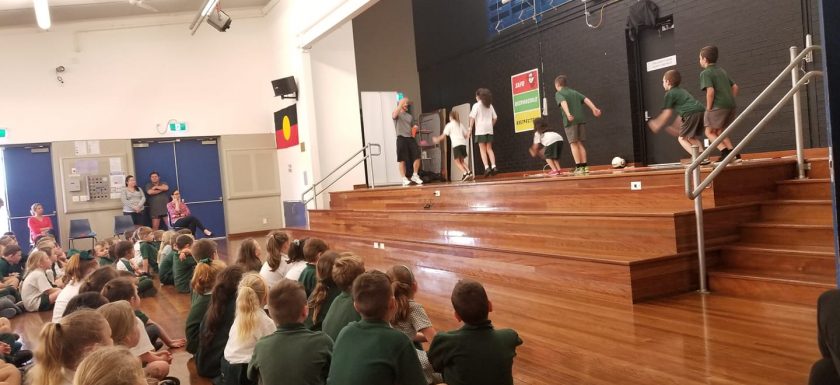 My wife and I just finished driving all over Australia. I have not been very good at doing any updates on here and I apologize. The past few weeks have been quite hectic with my first ever trip to China, backpack hiking in Canada, filming an ad for a new cell phone and spending almost a month in Australia. Stuff has been happening.
I would like to say that I have all of my jump rope trips planned out a year in advance. That I have shows scheduled at schools constantly and that life as a performer is super easy and fun! This is far from the truth. I was supposed to go to Egypt at the beginning of October, but got notified back in August that the event had been cancelled. I was flipping through some airfares and noticed that we could go to Australia for a really great price. It's been almost 8 years since our last trip down under, so we decided that we would go.
I booked the flight to Sydney and contacted some people I knew over there. Apparently, my timing was really bad since the entire country was going on school holiday for almost the entire time we were going to be in Australia. We were able to get a jump rope school assembly program scheduled for the end of our trip so it wasn't a total bust.
My wife and I decided we would knock something off her bucket list.
She always wanted to see Uluru in Australia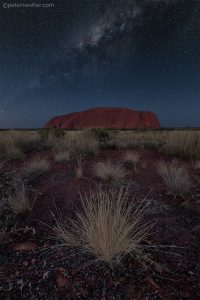 Since I was traveling like mad she setup the entirety of our travel. We flew into Sydney then caught a flight up to Darwin. We picked up an RV relocation and started the 3,500 km drive to Adelaide. Uluru (Ayers Rock) is located pretty much in the center of Australia. It was almost 30 hours of driving from Darwin to Alice Springs (nearest town) then another 4 hours or so from there. Let's just say it was a long way to drive. We did have some excitement on day 1 when I hit a kangaroo. This one seemed to be on a suicide mission as he hopped onto the highway and kept jumping in front of me no matter how hard I tried to swerve and miss him.
We were told that the outback of Australia is very barren. I disagree. There's a lot of interesting stuff along the way. In fact, we should have taken more time for our drive so we could stop and see everything that sounded interesting. Maybe another time.
The primary goal of this drive was to see Uluru so we got there in 3 days of driving. It was truly beautiful and we had perfect weather to check out this ancient monolith. I even got some shots of the milky way coming up over top.
The Pink Lakes of Australia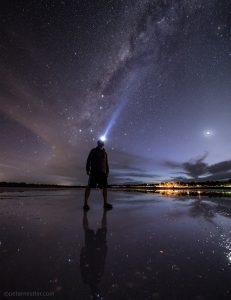 Since I hadn't done any homework about this part of Australia before we left, I had no idea what we would see. We camped out next to a lake one night and it was awesome. South Australia has these amazing pink lakes. They are salty and very pink during the daytime. At night, they make amazing locations to take pictures. The water is only an inch or two deep at points so you can stand in the water and get some cool reflection shots. I didn't really plan anything spectacular, like jumping rope in water here, but I did get a picture of me looking at the sky.
12 Apostles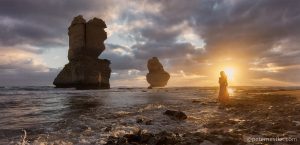 We finished our drive down to Adelaide and switched cars. The original plan was to go back to Sydney, but there was a rain bomb forecast. We didn't want to go through that so headed to Kangaroo Island for a week. After this we drove the Great Ocean Road for a couple days. We stopped by the 12 apostles (only 9 are there now) and got some more pictures. We finally made it back up to the Sydney area in time for my one show of the trip. An old friend of mine (Belinda) was there as she has 2 kids at the school. She helped out by turning some Double Dutch during the show. It was a blast and I can't wait to schedule another trip out here in the near future.
Sometimes I make a mistake with my travels and don't get many shows. Since my back surgery, I've been a bit more ok with this. I will post an update on how I'm doing now that it's been over a year. The short version is that I'm still not back to 100%. I can still jump well, but can't do as many shows as I used to. I've been focusing some more on my photography as that doesn't require as much physical toil. I love performing and will do so as long as possible. I just need to make sure that my trips coincide with school actually being in. Otherwise I end up driving over 7,500 km in 3 weeks. That's not so good for my back either.